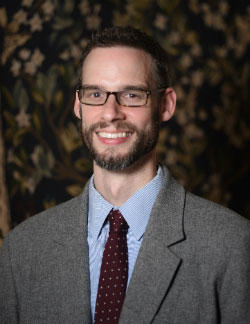 School
School of Philosophy
Expertise
Medieval Philosophy
Arabic-Islamic Philosophy
Philosophy of Religion
Aristotle
Biography
Stephen Ogden earned his Ph.D. in Philosophy and Religious Studies at Yale University in 2015. After completing a Mellon postdoctoral fellowship at Johns Hopkins University, he came to The Catholic University of America in the fall of 2017. Prior to his doctoral work, he received his B.A. at Rhodes College, taught English in Egypt, and finished his M.A.R. (Philosophy of Religion) at Yale Divinity School.
Dr. Ogden likes philosophy of most any kind. But his chief interests concern Arabic-Islamic philosophy (especially Ibn Rushd and Ibn Sīnā), medieval philosophy more broadly (especially Aquinas), ancient philosophy (especially Aristotle), and philosophy of religion / philosophical theology (Thales to the present). He also likes his family (okay, he loves them), running, music, coffee, and teaching.
His current book project, Averroes on Intellect: From Aristotelian Origins to Aquinas's Critique, is under contract with Oxford University Press.