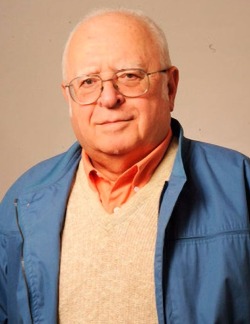 Department
English
School
School of Philosophy
Expertise
Literary Theory
Romanticism
19th and 20th Century Intellectual History
20th Century Literature
Religion and Literature
Dr. Virgil Nemoianu is William J. Byron Distinguished Professor of Literature and Ordinary Professor of Philosophy at CUA, where he has taught since 1979 and held the positions of Director of the Comparative Literature Program (1979–1994) and Associate Academic Vice-President for Graduate Studies (1989–1991). Dr. Nemoianu has also taught at the Universities of Bucharest, California (Berkeley), Cincinnati, London, Cambridge, and Amsterdam. He has held leading positions in the International Comparative Literature Association, the Modern Language Association and the Association of Literary Critics and Scholars; he is a member of the European Academy of Arts and Sciences (Vienna). 

Dr. Nemoianu's chief fields of research interest and accomplishment are European Romanticism, the intellectual history of the 19th and 20th Centuries, and aesthetic theory. Dr. Nemoianu has written, edited, or translated 16 books, written over 600 articles and reviews, and given more than 65 lectures in Europe, America, Africa, and Asia. His publications include The Taming of Romanticism: European Literature and the Age of Biedermeier (Harvard, 1985), The Theory of the Secondary: Literature, Progress and Reaction (Johns Hopkins, 1989), The Triumph of Imperfection: The Silver Age of Sociocultural Moderation in Early Nineteenth-Century Europe (University of South Carolina Press, 2005), and Postmodernism and Cultural Identities: Conflicts and Coexistence (CUA Press, 2010).
 
Over the years, Dr. Nemoianu has received numerous grants and fellowships from foundations such as Humboldt, Fulbright, DAAD, NEH, USIA, Taft, Earhart, University of California Regents' Fellowship, Wissenschaftskolleg zu Berlin and the University of Georgia Center. Among his awards are the Vatican Library Medal (1998), the "Harry Levin" Award of the American Comparative Literature Association (1986), the ARA Prize for Literature (1989), the Catholic University of America Excellence Award for Research (1987), the Award for Memoir-Writing of the Writers' Union of Romania (1995) and the Award for Life-Long Achievement of the Romanian Cultural Foundation (1997). The Romanian president awarded Dr. Nemoianu the country's highest civilian award the Order of the Star of Romania (Steaua României) in the rank of commander (2010).